DIY Printables For Coloring
There are many playful ways to strengthen a child's fingers for writing–  opening clothespins, mashing play-doh, squeezing a glue bottle, cutting with scissors, and building with Legos to name just a few.  Even with all of this, sometimes kids still struggle with taking command of a writing utensil and forming their letters when the time comes.  You may want to increase the type of activities that require your child to use a pencil, crayon, marker, or pen as your child gets older to provide more practice.
Coloring is obviously a great fine motor activity because it requires the child to hold a pencil, crayon, marker, or colored pencil and control their movements to the best of their ability.  If your child resists practicing writing their letters (been there!), try encouraging your child to color them instead.  The best part of all, you can easily create your own coloring pages with letters, numbers, words, or sentences!
It takes time, practice, and developmental ability to move from writing and coloring with big movements down to small ones.  Typically, the younger a child is the bigger you want to make the letter or words. You can gradually make the open space smaller as the child's writing and coloring matures.  However, if you have a little one that totally rocks at handwriting and coloring, make the opening space small for them. Or, if you have a big kid that struggles with coloring, keep the opening a little larger.  That's the beauty of making your own pages, you can make it to suit your child's needs!
Here's how to do it:
Go to Microsoft Word
Click "insert" tab
Click on Word Art
Select the first type of word art
Type anything you want- letters, numbers, words, sentences
Choose your font
Drag the text box to the desired size
Print it out
Things to make:
Letters
This example has one letter taking up the whole page.  This would be good for young ones still learning to control a crayon.  You can make it smaller if needed.
Numbers
Sight words or Spelling list words

Display the sight words on a word wall!
Child's Name
Sentence or Journal Page
Your child can color in the sentence and then illustrate it!  If they are old enough, you can even teach them how to make to sentences in Word Art.  In this example, the open space is a lot smaller.  Older kids or young ones with good control would find this a better fit.
You can use this for so many things and you can adjust the pages to your child's ability! The possibilities are endless
This post is linked to: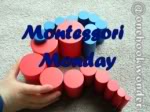 Comments
comments