Sight Word Tree in Fall Colors
One way to help your little one learn sight words is to have the words visible in your house to give your child more exposure to the words s/he is learning.  By making a sight word tree, you'll have a fun colorful display for sight words!
Note: This post contains affiliate links
Here's one way to make a sight word tree:
The Tree
Using easel roll paper, because it is long, measure out the length of your tree.  You would base this on how high you want your tree to be on your wall.
Cut all the way across.  You can use the extra width to make the branches.  Color the entire surface brown.
Decide how wide you want your tree and cut out the tree. With the remainder of the brown paper, cut the rest into strips to be your branches.
After affixing the tree trunk your wall, decide how long you want your branches and cut them to an appropriate size.
If you want to make grass, use your easel paper and color it green.
Feeling crafty? Add more design to your scene- flowers, a house, a tree swing, etc. Anything that you like to make it visually appealing!
I put a hole in the trunk of our tree trunk to draw a squirrel since we just read

Gooseberry Park

by Cynthia Rylant.  In the story, Stumpy the squirrel lived in an oak tree that got destroyed by an ice storm.  Looking for help, she was separated from her newborns. Her animal friends tried to find her as  they also took care of her babies. The animals eventually reunited the mom and babies and found a maple tree to rebuild her house in. My plan was to draw Stumpy at home in her new maple tree, but my four year old decided to draw in the hole so I kept his artwork. We will relate our maple tree to the story though!
Print out the Maple leaf template from Activity Village (click here).
If you print it on cardstock, you could us those as tracers on the construction paper.  If you are like me and out of cardstock, print it on regular computer paper and trace the leaves on cardboard from a cereal box to make sturdy tracers.
Using your tracers, trace as many leaves as you want onto different color paper.  It may help to decide how many sight words you want to display to determine how many leaves to make.
Write one sight word on each leaf. Not sure what words to write?  Your child's teacher may have given you a list.  If not, the Dolch list is used often by teachers (click here), so is the Fry's list (click here).  I used a Kindergarten sight word list found on education.com (click here).  I previously assessed my youngest to see what words he knew and which ones he didn't. I included the unknown words on the sight word tree, along with some seasonal words and family words.
If you have a laminator (I found one for twenty bucks at Target), I suggest laminating the leaves.
Put them on the tree!
There you have it! A beautiful tree of words!
Happy tree building
In case you were interested, this is the book I mentioned:

This post is linked to Montessori Monday on Living Montessori Now.  Click on the picture below to see many more teaching ideas from the link up!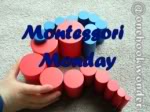 Comments
comments